Are you looking for an eye-catching, timeless manicure that will make your hands look beautiful? Then the half-moon mani is perfect for you! Make no mistake; wearing a half-moon manicure sends a bold message – you know how to rock sophisticated yet effortless looks. You can also craft stunningly fashionable nail styles with some practice and dedication. Ready to start mastering this trend? Read on for everything from step-by-step instructions on how to do the half-moon mani at home to top tips and tricks so you can keep rocking long-lasting color designs with confidence and grace!
The half moon manicure: a trend that's here to stay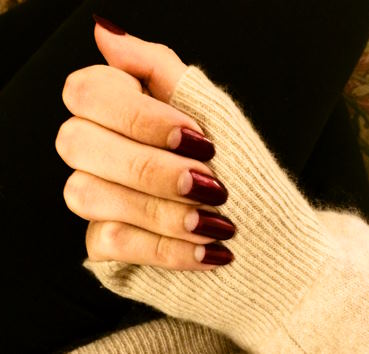 The half-moon manicure is a modern twist on the classic French manicure. This look is characterized by a curved line at each nail's base, creating an edgy half-moon shape. It can be done with any color combination, from simple and sophisticated to bold and daring. With its unique design, it's easy to see why this trend has become so popular in recent years; it makes your nails stand out and adds just the right amount of drama for any occasion. So whether you go for a subtle nude palette or something more vibrant and eye-catching, you'll be sure to turn heads! Plus, with such a versatile style, you can easily switch up your look and keep it fresh. So if you want to make a statement, try out the half-moon manicure and watch your style come alive!
This trend isn't going anywhere anytime soon; celebrities, influencers, and fashionistas have embraced its modern take on the classic French manicure. Plus, with so many nail art tutorials available online, it's easy to recreate this look at home, giving you plenty of options for experimenting with different color combinations. So, whether you go for ombre nails or add some glitter accents, the possibilities are endless! For those who want to take their half-moon mani game up a notch, there are even pre-made stickers and stencils that you can purchase to add a bit of extra flair.
So, if you're looking for an edgy and on-trend manicure style that won't break the bank, look no further than the half-moon manicure! With its unique design and versatility, it's sure to be a hit in any wardrobe – and you'll be turning heads with this fashion-forward look. So, give it a try today and experience the magic of this timeless trend!
Reasons why the half-moon manicure is taking over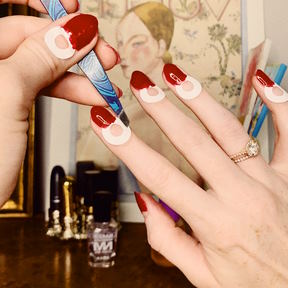 The half-moon manicure is becoming increasingly popular for several reasons. Firstly, it's a great way to add a unique twist to your classic French manicure. The minimalistic look can be achieved quickly and easily with simple tools like tape and nail polish. Secondly, the half-moon design provides an effortlessly chic look that can be customized with different nail polish colors or even glitter. Additionally, the look complements any outfit and can range from subtle to bold, depending on the occasion. Finally, this manicure style works well on short and long nails – ensuring everyone can get in on the trend! All in all, the half-moon manicure is an easy-to-achieve trend that looks good no matter what. With its versatility and accessibility, it's no wonder the half-moon manicure is taking over!
Furthermore, the half-moon manicure is also a great way to express one's personality through nails. The modern twist of this classic look can be used to create subtle yet meaningful designs that reflect your style. Whether you go for a minimalist design or something more intricate, the half-moon manicure will make your nails stand out in all the right ways! No matter what your aesthetic may be, this trend proves it can easily accommodate any look while still making an impact. It's perfect for fashion-forward individuals who always want their nails to stay on trend. It's no surprise why the half-moon manicure is taking over!
With its versatility, ease of use, and chicness all rolled into one, it's not hard to see why the half-moon manicure is becoming so popular. Whether you choose a subtle or bold design, this trend can be easily tailored to suit any look. Furthermore, with its ability to make a statement while still being minimalistic, it's easy to understand why people are choosing this style time and time again. As the saying goes: if it ain't broke, don't fix it – which certainly applies here! The half-moon manicure is making waves in the nail world and looks set to stay for some time!