Box braids are the ultimate hairstyle choice – they're beautiful, versatile, and can last for up to two months. So whether you rock them as a protective style or switch it up with different colors and accessories, you can take your look from everyday to chic in no time. To truly elevate your box braid style, check out these must-have accessories that will help give your tresses a glamorous finish! From beads to gold chains and colorful scarves, read on for some of the best styling options to add texture and personality to any box-braided hairdo.
Why do you need different accessories for box braids
Box braids are a great protective hairstyle and can be worn for weeks. However, to ensure that your box braids look their best, it is important to have the right accessories on hand. Many different accessories are specifically designed to help you maintain and style your box braids, including braid shields, headbands, hair ties, and bonnets.
Braid shields protect the ends of your box braids from unraveling or getting frayed during sleep or other activities. Headbands are ideal for keeping those pesky flyaways in check while adding an extra dose of flair to your look – perfect for accessorizing any outfit! Hair ties keep all of your luscious locks in place and make styling easy when it comes to creating updos and half-up/half-down styles. Additionally, a bonnet or scarf can help keep your box braids neat during the night by preventing tangles and keeping them from rubbing up against any pillowcases or bedding.
Having the right accessories for box braids can ensure your hairstyle looks its best for as long as possible. With the right combination of products, you'll be able to create versatile and stylish looks while protecting your strands at the same time!
Best accessories for box braids this season
As the weather starts to get warmer, many people are starting to think about their style and what kind of hairstyle they want for the upcoming season. Box braids are a timeless favorite that can be modified and accessorized in many ways. From bold statement pieces to delicate pins and beads, there's something for everyone when it comes to adorning box braids this season. Here are some of our favorite accessories for those rocking these beautiful braided styles: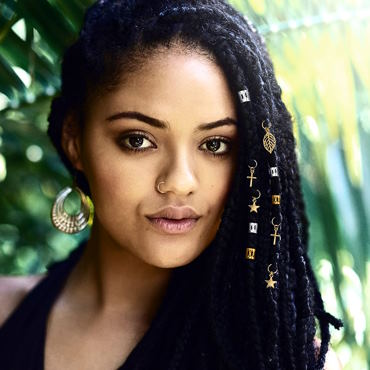 Hair Rings: Hair rings create an edgy look on box braids while also helping keep them from unraveling and becoming frizzy. They come in various colors and shapes to match any mood or outfit you have planned.
Headbands: For a more feminine look, headbands are the perfect way to spruce up box braids. They can come in plain colors or be adorned with detailed designs and jewels, making them easy to accessorize and dress up your hairstyle.
Beads and Pins: To add even more texture and interest to your look, you can add beads or pins near the end of each braid for a unique touch. These items come in many different shapes and sizes, so you'll easily be able to find pieces that suit your personality perfectly.
Clips: For an unexpected twist on box braids, try using clips at the base of each braid. This will give it a more polished and formal look that will pair well with dressier occasions.
The possibilities for accessorizing your box braids are endless! With the right pieces, you can make any look stand out and show off your unique style. We hope you'll find inspiration from these ideas for how to style up this classic hairstyle this season.